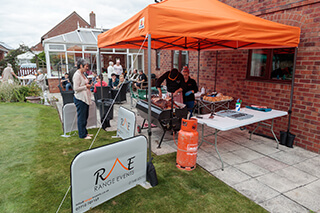 Range Events' launch party which was a Hog Roast in Cockshutt, Shropshire.
Hog Roast Event at Sweeney Hall Hotel in Oswestry.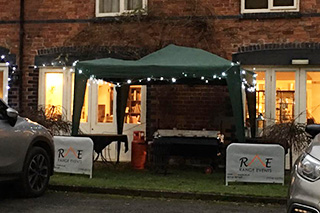 Range Events provided a Hog Roast Machine and Hog for The Inn at Grinshill's New Years Eve Event
Hog Roast Information & Prices
Our Hog Roasts will enhance any event bringing people together to enjoy mouth watering food served by our Chef and Servers.
We can cater for parties from 50 to 300 guests and all our Hog Roasts include baps, apple sauce, mustard and stuffing. Other items can be added at an additional cost and menu 3 includes a choice of 3 different homemade deserts.
Our experience and qualifications ensure we provide Hog Roasts that deliver high quality standards and taste delicious:
The Hog will be prepared and cooked by our chef who has 5 years experience working as a Head Chef for a well known pub/restaurant chain.
Certificates : Level 1 Food and Safety Hygiene
Certificates : Level 2 Food Safety and Hygiene for Catering
All prices below are ex vat
Hog Roast – Menu 1
Hog, Baps, Stuffing, Apple Sauce and Salad
Hog Roast – Menu 2
Hog, Baps, Stuffing, Apple Sauce, Salad and New Potatoes Seasonal / Roast Potatoes
Hog Roast – Menu 3
Hog, Baps, Stuffing, Apple Sauce, Salad and New Potatoes Seasonal / Roast Potatoes
And a choice of three of the following desserts:
Apple Pie, Cheesecake, Trifle, Chocolate Brownie, Victoria Sponge, Cheese & Biscuit Board